7 Steps to Dental Practice Marketing Success
Practiced effectively, marketing is simply a system.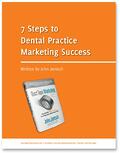 While this may be hard for some practice owners to come grips with, like those who feel that "marketing is a strange form of creative voodoo thinking," marketing is not only a system—it may be the most important system in any practice. Please complete the form in the right column to receive your report.
A few of the things you will learn in this report:
Step 1: The benefits of "Strategy Before Tactics"
Step 2: The Marketing Hourglass ™
Step 3: Publish Educational Content
Step 4: Create a Total Web Presence
Step 5: Operate a Lead Generation Trio
Step 6: Make Selling a System
Step 7: Living By the Calendar
Here are the 7 core steps that make up the simple, effective, and affordable marketing system.