20 Dental Website Design Tips
Find out what you need to include in your dental website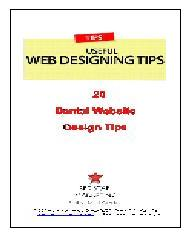 There is a lot more to building a quality website than most people anticipate. These guidelines will help you hit the ground running and develop a website that can help activate patients.
This report includes tips on:
(1) What makes an attractive design
(2) Structuring your navigation and content
(3) Keyword optimization to attract patients
These key components need to be considered ahead of time so when you actually build your site they can be included. Otherwise it is difficult and costly to add many of them later.